The Boys is the third album by Girls' Generation, released on October 19, 2011. The song "The Boys", released also in an English version, was used to promote the album. The album was re-released on December 9, 2011 with the title Mr. Taxi.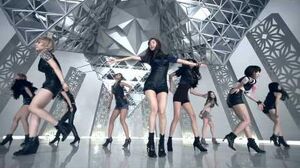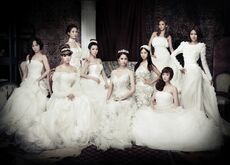 Tracklist
Edit
The Boys
Telepathy (텔레파시)
Say Yes
Trick
How Great Is Your Love (봄날)
My J
Oscar
Top Secret
Lazy Girl (Dolce Far Niente)
Sunflower (제자리걸음)
Vitamin (비타민)
MR.TAXI (Korean Ver.)
The Boys (English Ver.)
Video Links
Edit
The Boys

Lyrics: Yoo Young-jin, Teddy Riley
Music: Teddy Riley, DOM, Kim Tae-sung, Richard Garcia

Telepathy
Say Yes
Trick

Lyrics: Jo Yoon-kyung
Music: Martin Hansen, Sarah Lundback, Sam McCarthy

How Great Is Your Love
My J

Lyrics & Music: Hwang Sung-je

Oscar

Lyrics: Kim Jung-bae
Music: Kenzie

Top Secret

Lyrics: Hong Ji-yoo
Music: Sharon Vaughn, Gabriella Jelena Jangfeldt, Mathias Peter, Peter Lars Wennerberg

Lazy Girl (Dolce Far Niente)

Lyrics: Kim Tae-yoon
Music: Lucas Secon, Mikkel Reme Sigvardt, Thomas Troelsen

Sunflower

Lyrics: Kim Boo-min
Music: Hitchhiker

Vitamin

Lyrics & Music: Hwanghyun

MR.TAXI

Lyrics: Jung Hye-young
Music: Scott Pearson Mann, Chad Royce, Allison Veltz, Paolo Prudencio, STY
Charting
Edit
Chart
Rank
Sales
Total Sales
Gaon Yearly Album Chart
1
385,348
385,348+
Gaon Monthly Album Chart
1
227,994
Gaon Weekly Album Chart
1
-
The Boys was the best selling Korean album in 2011, ranking 1st on the yearly Gaon Album Chart.
Community content is available under
CC-BY-SA
unless otherwise noted.