Spring Falling is the second mini album by Yesung, released on April 18, 2017. The physical album was released in two versions: normal and limited edition. The song "Hibernation" was released as a pre-release track and the song "Paper Umbrella" was used to promote the album. The limited edition of the album includes Yesung's solo version of the song "At the Time".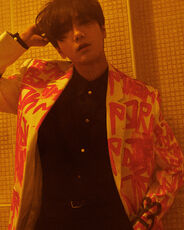 Tracklist
Edit
Paper Umbrella (봄날의 소나기)
Hibernation (겨울잠)
All But You (그대뿐인지)
Fly (번지점프)
At the Time (그때로) (feat. Kyuhyun)
So Close Yet So Far (비눗방울)
At the Time (그때로) (Yesung Solo ver.) (Limited CD Only)
Video Links
Edit
Versions
Edit
Normal Edition
Limited Edition
Paper Umbrella

Lyrics: Seo Ji-eum
Music: 1601

Hibernation

Lyrics & Music: Denis Seo, Shin Seung-ik

All But You

Lyrics & Music: Yoon-song, Nuplay

Fly

Lyrics: Lee Yoo-jin
Music: ZigZag Note

At the Time

Lyrics: Yesung, Realmeee, Lee Rae-eon
Music: Yesung, Hwang Sung-je

So Close Yet So Far

Lyrics: Yesung, Yoon Sa-ra
Music: Yesung, Choi Hee-joon, Hwang Seung-chan, Kang Hwa-sung
Charting
Edit
Chart
Rank
Sales
Total Sales
Gaon Yearly Album Chart
N/A
20,863+
20,863+
Gaon Monthly Album Chart
13
20,863
Gaon Weekly Album Chart
2
-
Community content is available under
CC-BY-SA
unless otherwise noted.