Red Light is the third album by f(x), released on July 7, 2014. The physical album was released in two versions: Sleepy Cats version and Wild Cats version. The song "Red Light" was used to promote the album.
This is the group's last album to feature member Sulli.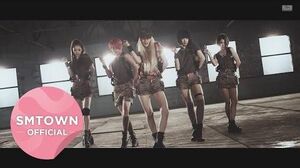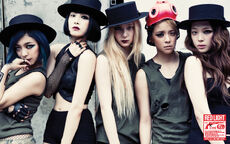 Tracklist
Edit
Red Light
MILK
Butterfly (나비)
Rainbow (무지개)
All Night
Vacance (바캉스)
Spit It Out (뱉어내)
Boom Bang Boom
Dracula
Summer Lover
Paper Heart (심장)
Versions
Edit
Sleepy Cats Version
Wild Cats Version
Red Light

Lyrics: Kenzie
Music: Maegan Cottone, Allison Kaplan, Sherry St.Germain, Daniel Uilmann, Bryan Jarett

MILK

Lyrics: Kenzie
Music: Kenzie, Teddy Riley, TL, Engelina Larsen

Butterfly

Lyrics: Shin Jin-hye
Music: Thomas Troelsen, Engelina Larsen, Hitchhiker

Rainbow

Lyrics: Misfit
Music: Will Simms, Ylva Dimberg

All Night

Lyrics: Jin-bo, Kim Mi-young, Lee Eun-jin
Music: Teddy Riley, TL, Jin-bo, Ylva Dimberg

Vacance
Spit It Out

Lyrics: Misfit
Music: Caesar & Loui, Olof Lindskog, Jasmine Anderson

Boom Bang Boom

Lyrics: Seo Ji-eum
Music: Eirik Johansen, Jan Hallvard Larsen, Carl Johan Isac Gustafsson, Fredrik Haggstam, Sebastian Per Emil Lundberg, Melanie Fontana

Dracula

Lyrics: Jo Yoon-kyung
Music: Joachim Vermeulen Windsant, Willem Laseroms, Maarten Ten Hove

Summer Lover

Lyrics: Kim Yeong-hoo
Music: Amber, Sean Alexander

Paper Heart

Lyrics: Seo Ji-eum
Music: Chris Wahle, Didrik Thott, Dianna Corcoran
Charting
Edit
Chart
Rank
Sales
Total Sales
Gaon Yearly Album Chart
19
86,143
86,143+
Gaon Monthly Album Chart
3
82,602
Gaon Weekly Album Chart
1
-
Billboard World Albums Chart
2
-
-
Billboard Top Heatseekers Chart
13
-
-
Community content is available under
CC-BY-SA
unless otherwise noted.