NCT #127 is the first debut mini album by NCT 127, the second unit of the group NCT. It was released on July 10, 2016. The song "Fire Truck" was used to promote the album.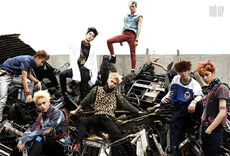 Tracklist
Edit
Fire Truck (소방차)
Once Again (여름 방학)
Wake Up
Another World
Paradise
Mad City
Switch (feat. SR15B)
Video Links
Edit
Fire Truck
Once Again
Wake Up

Lyrics: Kim In-hyung, Baek In-kyung, Cho Jinjoo
Music: LDN Noise, Tay Jasper

Another World

Lyrics: Kim Min-ji (Jam Factory), 이맑은슬
Music: Timothy 'Bos' Bullock, Adrian Mckinnon, Tay Jasper, Jamil 'Digi' Chammas, Leven Kali, MZMC

Paradise

Lyrics: 1wol 8il, Jung Ju-hee (Jam Factory), Realmeee
Music: The Colleagues, G.Bliz For Tdl, Inc., Henry Hill, Otha 'Vakseen' Davis III

Mad City
Switch

Lyrics: Kang Eun-jung, Jung Ju-hee (Jam Factory)
Music: LDN Noise, Tay Jasper, Rosina 'Soaky' Russell, Trey Campbell
Charting
Edit
Chart
Rank
Sales
Total Sales
Gaon Yearly Album Chart
32
83,272
83,272+
Gaon Monthly Album Chart
3
60,118
Gaon Weekly Album Chart
2
-
Community content is available under
CC-BY-SA
unless otherwise noted.