4 Walls is the fourth album by f(x), released on October 27, 2015. The physical album was released in two versions - orange and white - with four individual member covers. The song "4 Walls" was used to promote the album.
It's the group's first album as a four-member group after former member Sulli left the group in August 2015.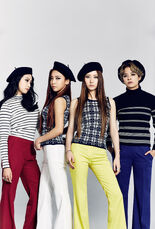 Tracklist
Edit
4 Walls
Glitter
Deja Vu
X
Rude Love
Diamond
Traveler (feat. ZICO)
Papi
Cash Me Out
When I'm Alone
Versions
Edit
Orange & White Version
Victoria Cover
Amber Cover
Luna Cover
Krystal Cover
4 Walls

Lyrics: Lee Seu-ran
Music: LDN Noise, Tay Jasper, Adrian Mckinnon

Glitter

Lyrics: Lee Seu-ran
Music: Andreas Oberg, Maria Marcus

Deja Vu

Lyrics: Jo Yoon-kyung
Music: Adam Kapit, Ryan S. Jhun, Nermin Harambasic, Kine J. Hansen, Lloyd Lawrence Lorenz, Camilla North

X

Lyrics: Kim In-hyung, Shin Hye-sun
Music: Nicolas Jack Scapa, Brian Robertson, Fransisca Hall, Anjulie, Ryan S. Jhun

Rude Love

Lyrics: 100%Seo-jung
Music: LDN Noise, Andrew Jackson, Katherine Daisy Syron-Russell

Diamond

Lyrics: Young-Hu Kim
Music: Jussi Ilmari Karvinen, Taylor Parks, Ryan S. Jhun

Traveler

Lyrics: JQ, Kim Jin-soo, Zico
Music: Stereotypes

Papi

Lyrics: Kenzie
Music: Kenzie, LDN Noise, Shaun, Ylva Dimberg

Cash Me Out

Lyrics: Kenzie
Music: David Dawood, Mark Pellizzer, Makeba Riddick

When I'm Alone

Lyrics: Jo Yoon-kyung
Music: Bonnie McKee, Matt Radosevich, Steven Robson, Carly Rae Jepsen, Hwang-hyun (MonoTree)
Charting
Edit
Chart
Rank
Sales
Total Sales
Gaon Yearly Album Chart
33
75,625
75,625+
Gaon Monthly Album Chart
4
65,933
Gaon Weekly Album Chart
1
-
Oricon Albums Chart
39
-
-
G-Music East Asia Chart
3
-
-
Billboard World Albums Chart
1
-
-
Billboard Top Heatseekers Chart
7
-
-
Community content is available under
CC-BY-SA
unless otherwise noted.