'Home' Chapter 1 is the first mini album by Kangta, released on November 3, 2016. The song "Diner" was used to promote the album.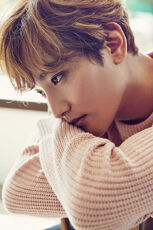 Tracklist
Edit
If I Told Ya (말했더라면)
Diner (단골식당)
Calling Out For You
Love Is Coming (사랑이 오네요)
Marry You (뚜뚜루) (feat. Youngjoon of Brown Eyed Soul)
If I Told Ya

Lyrics: Kenzie
Music: Kenzie, Andreas Oberg, Simon Petren, Gustav Karlstrom

Diner
Calling Out For You

Lyrics: Jo Yoon-kyung
Music: Sebastian Thott, Jay Dmuchowski, CARLOS BATTEY, STEVEN BATTEY, Ryan S. Jhun

Love Is Coming

Lyrics: Lee Yoon-jae, Hojae
Music: Lee Yoon-jae
Arrangement: Jung Ma-tae

Marry You

Lyrics & Music: Youngjoon (Brown Eyed Soul), Jeon Hong-joon
Charting
Edit
Chart
Rank
Sales
Total Sales
Gaon Yearly Album Chart
N/A
3,172
3,172+
Gaon Monthly Album Chart
N/A
3,172
Gaon Weekly Album Chart
13
-
Community content is available under
CC-BY-SA
unless otherwise noted.